The kitchen is one of the most important parts of the house, as we spend a lot of time cooking there. When choosing a kitchen, you should keep in mind that the result will depend mainly on three things: planning, choice of furniture and small details ✍️ So, don't forget to take your time to choose the right handles or knobs for your kitchen, as they can be the most elegant element of your new kitchen's decoration. 
Pomoline gives you some tips to consider when choosing the perfect handles for your kitchen. Ready to go?

3 key factors for choosing your kitchen handles
Quality
Is it important to choose quality handles for your kitchen doors? Of course it is. You should bear in mind that the kitchen is one of the spaces you use on a daily basis. How many times do you open the appliances during the day? Probably several times, and there are also factors such as smoke that can damage them too. This is why quality is one of the features to consider when choosing kitchen handles.
If you choose poor quality handles, it is very likely that with time and use they will start to deteriorate or give way and damage the holes they use to attach to the door. On the other hand, if they rust or if the finish is not good, the door is likely to become stained. If you are looking to buy kitchen throws online, please feel free to visit our website.
Material
Both this year's trends and the style you have in mind for your kitchen will help you determine what type of material you want for your handle. For kitchen furniture knobs, as they are for interior use, you have several options:  
✔️Zamak: economical material and resistant to daily use. If you want to see models of modern kitchen knobs, click here, you will like them! 
Brass: this material has a very characteristic shine. It is widely used by interior designers.
✔️Aluminium: this is a classic and very resistant.
✔️Stainless steel: this is one of the hardest materials in the world. With this material your knobs will last a lifetime.
Don't forget to read ? Coronavirus: how to clean doorknobs? 

Size and distance
There are other things to consider such as size. Let's look at an example: putting very small handles on the doors of very large wardrobes will never look good, nor the other way round. Or the other way round, don't you think?
Ideally, the handle or knob should be in proportion to the size of the handle and the size of the piece of furniture. Our advice is that you should be guided by the dimensions when choosing the most suitable one. On the other hand, if you are looking for cheap kitchen handles, don't forget to visit the "outlet" section of our website, where you will find quality knobs at an irresistible price.
Another option that is becoming more and more popular are hidden handles. In fact, the most modern kitchen furniture does not have handles. That is to say, they are integrated into the doors in such a way that they are not visible to the naked eye.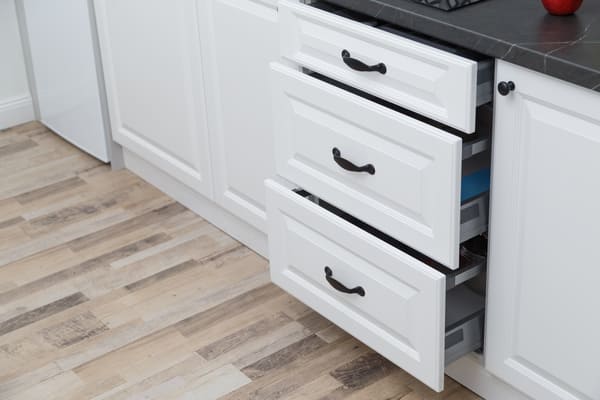 How to clean kitchen handles?
The functionality of the handle is as important as its design. In a kitchen, it is easy for knobs to accumulate dirt over time, so it is ideal to opt for those with simple shapes and without recesses and which are not excessively small. The aim is to save time when cleaning the kitchen ?
Tip: In a kitchen there are many factors that can be great enemies of our knobs: grease, smoke and food. The conservation of the handles is essential to avoid their deterioration with use, that is why we advise you not to use the same cleaning products that you use for the rest of the elements of the kitchen. A simple cloth lightly dampened with water will suffice. 
Y para ti, ¿cómo es tu cocina ideal? ? Si quieres saber más sobre todos los productos que distribuimos, no tardes en ponerte en contacto con Pomoline. Somos una empresa con gran experiencia en el sector. ¿Hablamos? Estaremos encantados de enseñarte nuestro catálogo.
¡Haz clic para puntuar esta entrada!