On many occasions when we go to a decoration shop and we look at a piece of furniture, such as a sideboard for the living room, we see that it lacks a touch of distinction, something that gives much more value and prominence to the piece of furniture?  And we have the solution, you have to change the knobs that comes with the furniture by default for other more original and striking ones. 
Fortunately, at Pomoline you will find a wide variety of handles and knobs for furniture that will fit in perfectly with the decoration of your home. Today we are going to distinguish between two types: handles for interior doors and knobs for kitchen furniture or drawers, so pay attention! ?

Glass knobs for interior doors
Glass doorknobs? Yes, you read that right. We know that the most common thing to put on the doors of your house are wooden, metal or methacrylate knobs. But we don't want to miss the opportunity to show you our luxury collection of handles ?. 
Elegant, striking, different… they will give your doors a sense of distinction that other materials cannot provide. Within this finish you can find them in the shape of a ball, with inlaid glass or opt for our diamantato gold furniture handle. You will fall in love with them❤️!
On the other hand, if you are one of those who like details, we also have artistic glass handles that will catch the eye of all your visitors. 
Ethnic furniture handles
Within this range of knobs and handles for antique furniture, the products made of mother-of-pearl, carved bone or glass stand out. Their ethnic prints and shades are very warm and will give your furniture that different touch that you are looking for. 
On our website you will find a wide range of shapes and colours to suit your tastes. What are you waiting for to choose yours?
Don't forget to read ♂️ 3 tips to choose the best coat rack for your home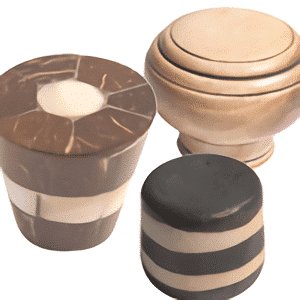 Metal knobs for furniture
If you want to be original, but without going over the top, using metal knobs in a variety of shapes can be a great option ?. Although in today's article we are going to highlight the golden knobs, which are very fashionable this year. Whether on a light or dark piece of furniture or door, these types of knobs look very elegant.  You will see that we have handle handles, half-shell handles, frame handles… There is something for everyone!
Wooden knobs
A classic, but different. Wooden handles are becoming more and more popular because everything natural and sustainable is in fashion. It is a resistant and strong material that will also give a very natural look to your furniture, as we have different tones to match the colour of your sideboard or door.
There are many different shapes from the more conventional round wooden knob to furniture handle knobs or square wooden knobs. Don't forget, details count for a lot! You can even include them in your kitchen or bathroom furniture.
Very interesting! ? Create a personal and unique home with the best doorknobs 
Pomoline
Giving a different touch to your home is very easy by buying furniture handles and knobs in our shop. In addition to all the styles mentioned above, you will also find vintage style knobs, children's handles, handles that combine several materials, ceramic handles… As experts in the sector and manufacturers of knobs for many years, we have a large catalogue that you can consult on Pomoline.com. Don't hesitate to ask us any questions you may have!
Click to rate this product!
You must register to vote